The world needs to hear your story.
Do you have a story which will inspire others? We like to call it 'Calmspiration'!
Here at Calmpreneur we love sharing stories from business owners who have overcome adversity because we know how important they are.
Someone in the world right now is where you were at your lowest point; imagine the impact that reading your story would have?
Maybe you…
Started a business after a major life event
Sometimes something happens in our lives which just makes us re-evaluate EVERYTHING. Was a major life event the catalyst for you making big changes and starting your own business?
Struggle(d) with your physical or mental health
Physical and mental health problems are very common and most of us will experience them at some point in our lives. Did this make you want to start a business so you could have complete flexibility and/or help others?
Have overcome complex trauma or PTSD
Traumatic live events can take many years to heal from. Sometimes healing ourselves makes us feel passionate about helping others to heal. Did you recover from trauma and now help others do the same?
Yes? Then read on for more information on how you can inspire other entrepreneurs.
How to share your story on Calmpreneur
It's really easy and completely free to share your inspiring story!
If you would like to submit your story, follow the simple steps below:…
Step 1: Copy & paste the questions below to a Word doc
Answer the questions below in as much detail as possible. Feel free to get creative and think of your personal transformation from chaos to calm.
Step 2: Include a free gift or offering if you have one
If you have a free download or something else you would like to share exclusively with our audience, please include details on how our readers can access it. 
Step 3: Email us your completed story with any offers & Photos
Send your story via email, along with a short bio, website link and photograph(s), including a headshot image. We can add your logo and other images within the post.
Please allow up to 4 weeks for your story to be published – we will notify you of timescales once your story is received.
Your story will be shared to our social media networks as soon as it goes live AND on an ongoing basis, so you get maximum exposure.
IMPORTANT: You must have been in business for at least 12 months. In return for this exposure, you will be expected to share your story on your own social media networks and email marketing list if you have one.
By sharing your story, you consent to our use of your text and images (with credit, or link back to your story) on our marketing materials.
Calmspiration story questions
• Intro and background/life story
Describe any personal struggles and challenges you have overcome, your work history/experience
• Your business "Why"
Explain why you decided to go into business, how your life and employment experiences helped you, why you want to make a difference
• What's important to you?
Describe your ethics and values
• What's been the lowest point in your life or business journey?
How did you feel, did others around you help you, what was the outcome, what did you learn from the experience?
• If your business hadn't worked out, what would you have done?
Describe any business failures, back up plans etc.
• What's been your most amazing moment in your life or business journey so far?
What did that moment mean to you, did it change your future path?
• Describe how your life and business looks now
Share your successes so far, plans for the future etc.
• How do you cope with stress and overwhelm?
Describe how you prioritise mind wellness: daily habits, self-care, support networks etc.
• What would you say makes a 'Calmpreneur'?
What qualities do you have which help you stay calm when faced with adversity?
• What advice would you pass onto other entrepreneurs who are struggling with stress and overwhelm?
Give a few practical tips of what's helped you/your clients
• What marketing, growth or social media tips would you give to other business owners?
Share at least 3 useful tips – these can be general tips, or niche tips for your industry
Please feel free to include anything else you want to say about keeping mentally and physically healthy.
We look forward to sharing your story soon!
Remember to grab a badge!
Grab your special 'Featured On' badge HTML (pick the colour that suits your site!) below when your interview is live. You can add it to your website/blog or share it on social media and link it to your story.
<a href="https://calmpreneur.com"><img src="https://calmpreneur.com/wp-content/uploads/2022/10/featured-on-calmpreneur-orange.png" alt="Featured on Calmpreneur" style="width: 200px; height: 200x;" /></a>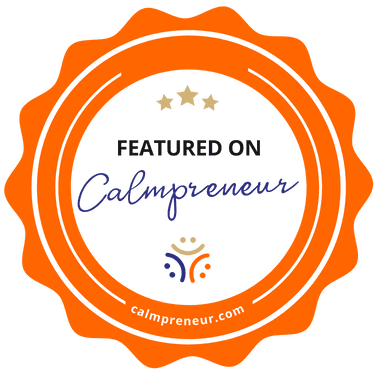 <a href="https://calmpreneur.com"><img src="https://calmpreneur.com/wp-content/uploads/2022/10/featured-on-calmpreneur-blue.png" alt="Featured on Calmpreneur" style="width: 200px; height: 200x;" /></a>
<a href="https://calmpreneur.com"><img src="https://calmpreneur.com/wp-content/uploads/2022/10/featured-on-calmpreneur-teal.png" alt="Featured on Calmpreneur" style="width: 200px; height: 200x;" /></a>