There are so many books out there for entrepreneurs – books about habits, mindset, money and the law of attraction, to name but a few, but with so much choice, it can be overwhelming to know where to start!
But never fear, because I've been on a calmpaign to find the best of the best.
I'm going to be sharing my personal top ten books for Calmpreneurs, all which I have read or listened to on Audible.
Top 10 Books for Calmpreneurs
1: Chillpreneur: The New Rules for Creating Success, Freedom and Abundance on Your Terms by Denise Duffield-Thomas
Feeling burned out by your business? Sick of the 'hustle and grind' culture of your industry? There's a better way! Get over your perfectionism and embrace the flow of the Chillpreneur.
Denise Duffield-Thomas, money mindset coach and best-selling author, will show you how with her trademark humor and down-to-earth wisdom. In this book, she shares invaluable business advice and counterintuitive millionaire mindset lessons (no blood, sweat, or tears necessary) which will set you on the path of abundance – without the hard work.
You'll discover how to find the business model that works perfectly for your personality, learn about key concepts – such as the Golden Goose and the Keyless Life – to help you work less and earn more, become a marketing pro without feeling like a sleazy car salesman and learn how to deal with awkward money situations and find the most effective ways to price your offers.
Full of reassuring and practical advice, Chillpreneur challenges the old, boring assumptions of what it takes to create success in business, so you can create financial independence with ease and grace.
2: Atomic Habits – An easy and proven way to build good habits and break bad ones by James Clear
Transform your life with tiny changes in behaviour starting now.
People think when you want to change your life, you need to think big. But world-renowned habits expert James Clear has discovered another way. He knows that real change comes from the compound effect of hundreds of small decisions doing two push-ups a day, waking up five minutes early, or holding a single short phone call.
He calls them atomic habits.
In this ground-breaking book, Clears reveals exactly how these minuscule changes can grow into such life-altering outcomes. He uncovers a handful of simple life hacks (the forgotten art of Habit Stacking, the unexpected power of the Two Minute Rule, or the trick to entering the Goldilocks Zone), and delves into cutting-edge psychology and neuroscience to explain why they matter. Along the way, he tells inspiring stories of Olympic gold medalists, leading CEOs, and distinguished scientists who have used the science of tiny habits to stay productive, motivated, and happy.
These small changes will have a revolutionary effect on your career, your relationships, and your life.
3: Rip it Up: Forget positive thinking, it's time for positive action by Richard Wiseman
Forget positive thinking. It's time for positive action.
According to Eastern wisdom, even the smallest of actions influences the mind. Move more slowly and you relax. Smile and you become happier. Clench your fist and you feel more powerful. Scientists have discovered that this simple idea can be used to boost your willpower, mood, relationships and creativity.

Find out why the body rules the brain, and how small movements can help you:
Lose weight
Stop smoking
Feel instantly younger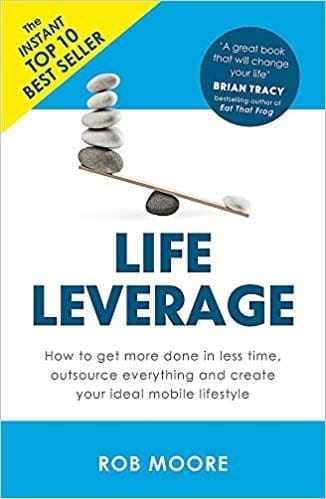 4: Life Leverage – How to Get More Done in Less Time, Outsource Everything & Create Your Ideal Mobile Lifestyle by Rob Moore
You are just one small step away from the life you know you deserve. It's time to leverage your life.
Life Leverage means taking control of your life, easily balancing your work and free time, making the most money with the minimum time input & wastage, and living a happier and more successful life.
Using Rob Moore's remarkable Life Leverage model, you'll quickly banish & outsource all your confusion, frustration and stress & live your ideal, globally mobile life, doing more of what you love on your own terms.
Learn how to:
Live a life of clarity & purpose, merging your passion & profession
Make money & make a difference, banishing work unhappiness
Use the fast-start wealth strategies of the new tech-rich
Maximise the time you have; don't waste a moment by outsourcing everything
Leverage all the things in your life that don't make you feel alive
'This book shows you how to get more done, faster and easier than you ever thought possible. A great book that will change your life'. Brian Tracy, bestselling author of Eat That Frog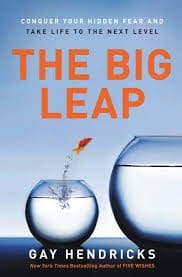 5: The Big Leap: Conquer Your Hidden Fear and Take Life to the Next Level by Gay Hendricks
Remove the Last Obstacle to Ultimate Success.
In The Big Leap, New York Times bestselling author Gay Hendricks reveals a simple yet comprehensive program for overcoming our one barrier to happiness and fulfillment, providing a clear path for achieving our true potential and attaining not only financial success but also success in love and life.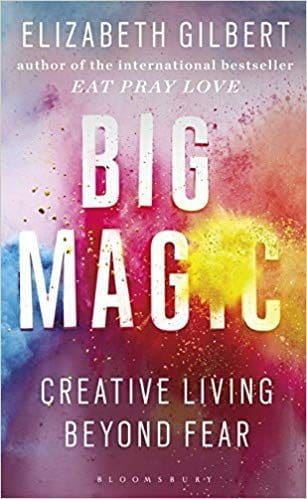 6: Big Magic: Creative Living Beyond Fear by Elizabeth Gilbert
Whether you long to write a book, create art, cope with challenges at work, embark on a long-held dream, or simply to make your everyday life more vivid and rewarding, Big Magic will take you on a journey of exploration filled with wonder and unexpected joys.
Readers of all ages and walks of life have drawn inspiration from Elizabeth Gilbert's books for years. Now, this beloved author shares her wisdom and unique understanding of creativity, shattering the perceptions of mystery and suffering that surround the process – and showing us all just how easy it can be.
7: The Source: Open Your Mind, Change Your Life by Tara Swart
Self-help books like The Secret promise that we can tap into the 'law of attraction' to control our destiny, simply by changing our thoughts. If we strip away the mystique, at the heart of this idea is a fundamental truth that is backed up by the latest breakthroughs in neuroscience: most of the things we want from life – health, happiness, wealth, love – are governed by our ability to think, feel and act; in other words, by our brain.
Dr Tara Swart, a neuroscientist and executive coach with a background in psychiatry, is convinced beyond all doubt of our ability to alter how our brains work – and transform our lives. In The Source, she draws on the latest cognitive science and her experience coaching highly successful people to reveal the secret to mastering our minds.
With a four-step plan to awaken the power of your brain, this unique guide to life combines science and spirituality in a way that is open-minded and practical. Discover how to:
Challenge 'autopilot' thinking and rewire your brain's pathways to fulfil your potential
Manifest the things you want by directing your energy towards your deepest values and ambitions
Harness the power of visualisation to prime your brain to grab opportunities and take control of your future
Attack life with confidence, dispel fear and avoid negative thinking
Unlock your potential today – you are just four steps away from building a new confident you.
8: Dare: The New Way to End Anxiety and Stop Panic Attacks by Barry McDonagh
There's a new and faster way for anxiety relief, but few have ever heard it. Most people are advised to either just "manage" their anxiety or medicate it away.
If you're tired of just managing your anxiety and want a powerful natural solution, then apply the 'Dare' technique as explained in Barry McDonagh's latest book.
Based on hard science and over 10 years helping people who suffer from anxiety, Barry McDonagh shares his most effective technique in this new book. The DARE technique can be used by everyone, regardless of age or background, to live a life free from anxiety or panic attacks.
In this step-by-step guide you will discover how to:
Stop panic attacks and end feelings of general anxiety.
Face any anxious situation you've been avoiding (driving/flying/shopping etc.).
Put an end to anxious or intrusive thoughts.
Use the CORRECT natural supplements to relieve anxiety.
Boost your confidence and feel like your old self again.
Fall asleep faster and with less anxiety each night.
Live a more bold and adventurous life again.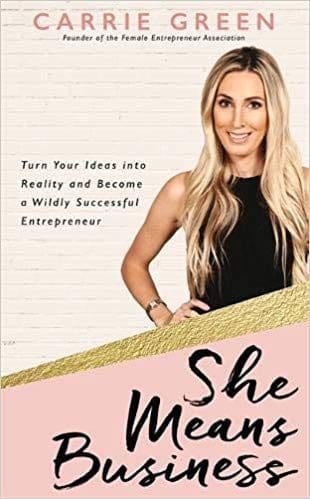 9: She Means Business: Turn Your Ideas into Reality and Become a Wildly Successful Entrepreneur by Carrie Green
More and more women are starting to feel like there are so many opportunities out there to turn their ideas into a reality, build a successful business and do what they love. The problem is that they don't really know how to go about it, and so they set off on their entrepreneurial journey and quickly feel out of their depth, overwhelmed, confused and like they're crazy for even thinking that they could do it. The purpose of this book is to inspire and empower these women to take back control of their mind, their ideas and businesses, and to provide strategies for them to make it happen.
This book is full of personal stories, tips and exercises to inspire you and get you in to action. Honest, realistic and practical, She Means Business speaks to today's creative, ambitious and talented generation of female entrepreneurs, as well as those that wish to join their ranks by following their dreams.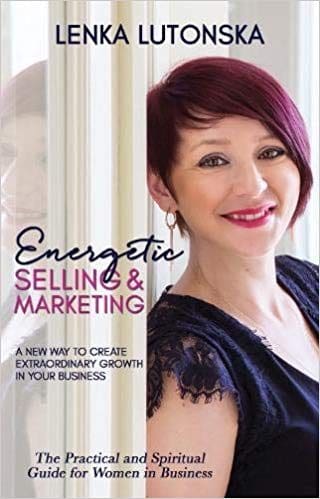 10: Energetic Selling & Marketing; A New Way to Create Extraordinary Growth in Your Business by Lenka Lutonska
How many times have you asked yourself, "Why does my business seem so hard? Why am I struggling, when other women make it look so easy? . I understand, because once upon a time, I was you. But that s not where I am any more. What changed? I did. When I started to pay more attention to the spiritual nature of my business and trust my intuition, remarkable things unfolded. By focusing energetically on five critical areas of my business, I began to experience rapid growth. And so my principles of ENERGETIC SELLING AND MARKETING were born. – Lenka Lutonska
Her results have often been nothing short of miraculous – women increasing their fees by five times and selling with greater ease than ever before; women booking themselves solid with their ideal high-end clients; women turning their annual income into their monthly income; and women doubling, tripling or even quadrupling their sales revenues within several months. With a foreword by CEO Penny Power, OBE, this book is an essential read for any entrepreneur who wants to open their minds to the possibility of extraordinary growth and create lasting and aligned business success.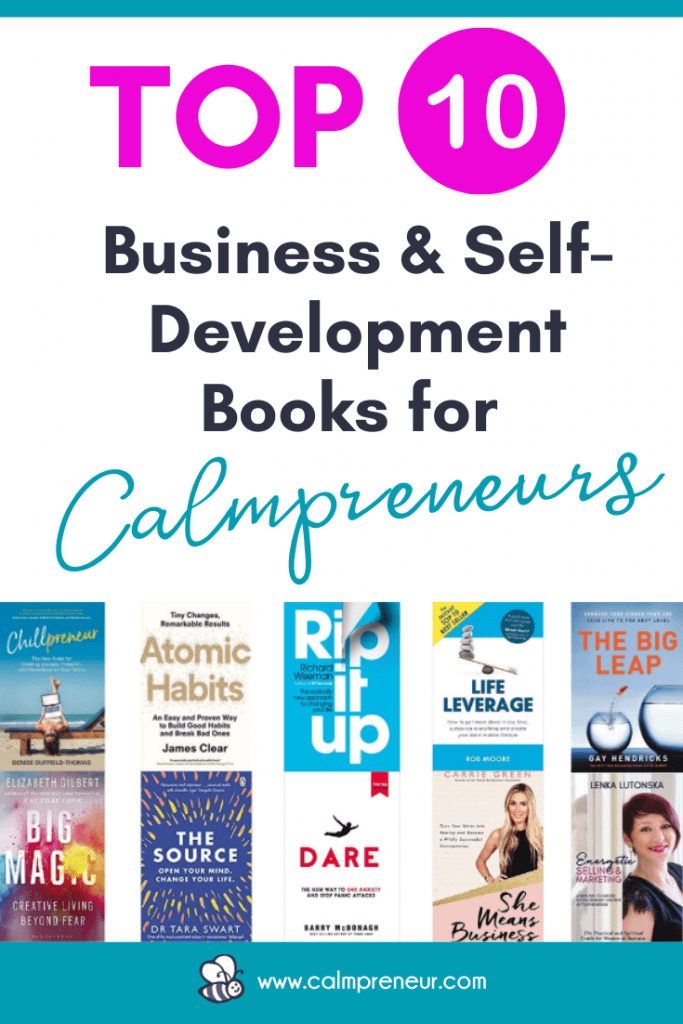 I hope you like my personal selection of books. Have you got any to add? Feel free to add them to the comments!
Transparency: this post contains affiliate links, which means if you decide to purchase, I will gain a small commission.