Mom of a beautiful adopted daughter, Tanya's journey to both motherhood and finding her true purpose was far from easy. Tanya's story is an inspiration to anyone who is still searching for their life mission.
Tanya's Story
I've always had an overwhelming need, a desire, to see the bigger picture – to know how my efforts and energy in life were contributing to something much bigger than me. I honestly don't know where it came from. It seems to be a desire naturally born into me.
After graduating from college, I spent 15 years, across four very different companies and through multiple volunteer and board positions, trying to find a position that fulfilled my need to make a difference. But… no matter where I was working, what position I was in, or how much I volunteered, my efforts just weren't "enough". I was always looking for more.
In my mid-thirties, I was hired by a fabulous environmental services company to help support corporate initiatives. In my late thirties, I was promoted to a senior manager role and was able to start influencing some of the strategic initiatives at a corporate level. I thought that perhaps this role would fulfil my need to make more of a difference.
From Personal Struggles to Biggest Inspiration
During this time, not only was I dealing with professional struggles to find where I belonged, my husband and I were dealing with personal struggles with infertility. After test upon test, we found out that it would be VERY unlikely that I could get pregnant, so we started down the path towards adoption. We had NO idea how long and difficult that journey would be.
The paperwork was overwhelming. Then the waiting was excruciating. The calls about potential matches that fell through were emotional roller coasters. Then hallelujah, we finally had a match! With only a few hours' notice, we drove 12 hours across multiple states to pick up a newly born baby boy, only to have it fall through while we sat for 48 very long hours waiting in a nearby hotel room. The call that the Birth Mom changed her mind at the very last second broke our hearts, but amazingly only made us stronger as a couple.
After another year of waiting, my husband and I were blessed with the most precious, beautiful baby girl I have ever seen. From the first moment that I saw her, my entire world shifted. What I thought was a simple personal desire to make a difference became an obsession. I took one look at her face and knew that I HAD to do more. I needed to find some way to make the world a better place just because she was in it!
Leap of Faith and My First Business Attempt
I quit my corporate job a few months after our daughter was born to take some time to just be a Mom. Especially as there were a few years where I wasn't sure that was going to happen. I loved every moment as a stay-at-home Mom, but the NEED to do more was still a constant companion.
Eventually, I started a photography business focusing on family portraits and events. I always loved taking photos and thought it would be a great avenue to try out some social responsibility ideas but in my own small business. While I loved working with my clients, once again… no big surprise here… IT STILL WASN'T ENOUGH.
Finding My Path
After countless journal pages, inspirational brainstorming sessions with my husband and best friends, and gallons of coffee and wine, I had an epiphany. Making a difference through actions of my own would never be enough. I wanted to make a difference on a grander scale – by inspiring thousands of others.
On a beautiful rainy morning, the concept for Small Actions Greater Good hit me like lightning. MY way to make the world a better place is to inspire thousands of other Small Business Owners to take their own small actions. I had been exposed to Social Responsibility for years in different positions and the concept had stayed in the back of my mind. I spent the morning Googling and was shocked to find that "Small Business Social Responsibility" wasn't as common of a term as I expected. Yes, there were references, but there wasn't a great definition, nor were there any simple tools or resources available.
So, I wrote my own definition and started working on my own tools and resources! I define "Small Business Social Responsibility" as…
a commitment to contribute to the greater good by taking educated, informed and impactful small actions and implementing mindful business practices that improve the world around you while also contributing to your small business growth and profitability.
My Personal and Business Mission & Values
Within a few days, I had written my initial business plan and mission statement. For the first time, my personal AND professional beliefs were in alignment and the feeling was beyond words. I literally ran around my house with giddiness!
I believe that every action, no matter how small, can contribute to the greater good of the world. I created Small Actions Greater Good to provide Social Responsibility inspiration, resources, and strategic support to Small Business Owners, who like me, want to improve the world around them, while also contributing to their business growth and profitability.
I also created six personal core values that I built my brand around: Open Mindedness, Contribution, Community, Passion & Creativity, Education, and Efficiency.
Lowest Point in My Life
The lowest point in my life was when I was lost professionally and struggling with fertility and adoption personally. The one-two punch almost knocked me out. I felt broken in so many ways. I had achieved the American Dream – I had a great job with a very respectable salary – yet I wasn't happy. Was there something wrong in my head? Add to that, I was the reason that we couldn't get pregnant. There was obviously something "wrong" with my body.
Thankfully I have a very strong and supportive network with my husband, family, and friends who helped hold me up through the darkest days. We stayed focused on our relationship, moved forward with our lives, and relied on faith that it was all happening for a reason. And faith delivered…
My Business Journey So Far
I just launched Small Actions Greater Good this year. I'm loving every moment of shaping and designing my business, but I'm also taking my time as I have other priorities as well. Our daughter is now in preschool and I'm as involved as I can be, including taking time during the week for activities that I couldn't do as a "Corporate Mom". I'm also the COO of Truby Achievements, a leading provider of personal and professional development tools, which takes up at least half of my professional time but thankfully I can work from home and on my own schedule. I've just started down my business journey path, but so far, it's a path that I'm excited and honoured to be taking. And one that FINALLY feels right.
Stress and Overwhelm
I'd love to say that I have great techniques or tricks to handle the stress and overwhelm of running two businesses, managing a very active family life, and trying to take care of myself! But I don't have anything earth-shattering. I'm just like most other Moms and entrepreneurs. I have great days and I have not-so-great days.
I've learned that stress can actually be my friend in a weird way. A little bit of stress helps propel me. It also serves as a good warning sign when I'm trying to do too much. Overwhelm is the demon that I fight personally. With two business and more ideas than I can process in my head, it's easy to find myself overwhelmed.
To help with stress and overwhelm, I do the following as often as I can:
Focus on my family – my work is important, but my family is my world. Walking away from my computer to spend time with them always calms me down.
Focus on my mission – no matter how stressed or overwhelmed I may feel, when I take the time to pause and consider WHY I'm doing what I'm doing, I always feel instantly better. Putting in extra hours for something that I truly believe in doesn't really feel like "work". It feels like a blessing.
Clear my head – I LOVE great tools and resources. I never feel calm if I have too many ideas bouncing around inside my head. I take the time daily to update my to-do lists (both personally and professionally) and to identify priorities for the next 7 days. Then, I let go of the things that aren't a priority for now.
Moderate with music – over the years, I've learned that I can moderate my mood and thoughts with the music that I'm playing. I have playlists that jazz me up when I need to get moving, help me focus when I'm writing, clear my head when I'm overwhelmed, and make me bounce around and burn off extra energy when I'm stressed. It's rarely quiet in my office.
Advice to Other Entrepreneurs
Find your "Ikigai"! That is a Japanese concept that means "a reason for being". Google it! There are a few great diagrams that demonstrate this wonderfully, but simply put – it's the intersection of what you love, what the world needs, what you can be paid for, and what you are good at. If you haven't found that yet… keep looking. Don't settle for something that is close but not quite there. If you have found it, CELEBRATE that! And then embrace and run with it!
My life may still be chaotic and overwhelming sometimes, but it's oddly calmer than ever before. Probably because I define "calm" a little differently than others. I'm a very passionate person and will ALWAYS be a ball of energy and emotions. For me, being calm is having alignment between my head and my heart and ending the tug of war between them. And that, I've finally found!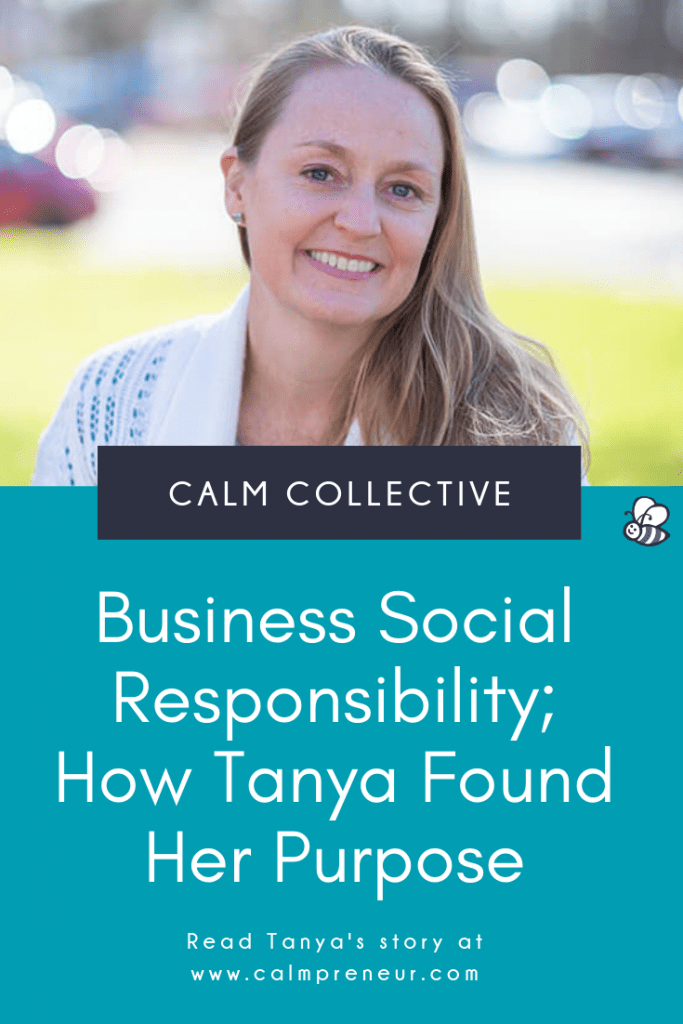 Follow Tanya's Journey…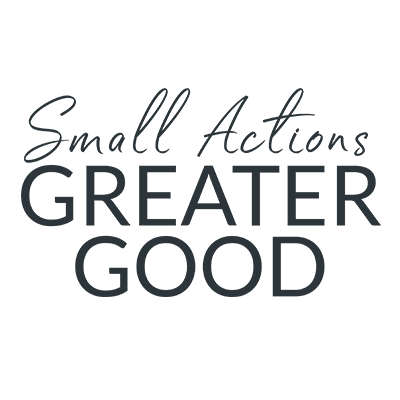 Tanya Quinn founded Small Actions Greater Good to provide Social Responsibility inspiration, resources, and strategic support to Small Business Owners who want to improve the world around them, while also contributing to their business growth and profitability.
She applies over two decades of project management, process improvement, and strategic development expertise with her passion for and experience with Social Responsibility to deliver clear, simple, and actionable training and tools for very busy Small Business Owners.Download Free Resources to Consider Social Responsibility for your Business at smallactionsgreatergood.com/small-actions-framework