Despite your best intentions to be a dynamic solopreneur, there will probably come a time when you start looking for an online business community of like-minded people for networking, support and collaboration.
The toll of being a lone-worker can lead to feelings of isolation, loss of confidence and self-doubt. I am the perfect example of this; I hid away in my office for many years and it was at detriment to my mental well-being. I thought I had it all together, but gradually my guard came down and I realised I was at rock-bottom, in an anxious and lonely place.
Self-sabotage
You might well have a tendency to self-sabotage, as I do, and part of that means I stop doing all the things that help me, including seeing other human beings.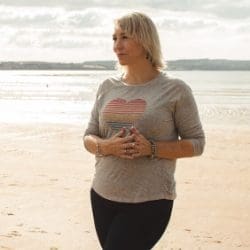 I frequently cancelled plans to see friends, used all sorts of excuses to get out of social events, never went to offline or online networking events and basically avoided other people like the plague. Being a shy introvert was the perfect excuse.
Embarrassingly, I also became suspicious of anyone who wanted to make contact online, thinking they just wanted to use me, or steal my ideas. Other amazing women in business would suggest 'hopping on a zoomcall' and my eyes would narrow suspiciously, like they'd just asked me to give one of my kids away! And my negative inner voice told me they more than likely they would pressure me to buy something I didn't want and then it would just all get really #awkward. So I politely declined, citing 'conflict of interests' or something equally pompous (if that was you by the way, I'm sorry). Steering clear of Facebook groups and online memberships for the same reasons, I thought I could go it alone and an online business community was not what I needed. I was wrong.
Craving connection
Deep down, I craved human connection and interaction; I needed to be part of an online business community and to start meeting people in actual real life too. I wanted and needed to feel part of something, but it wasn't until that rock bottom moment that I realised how much.
To quote an article in Psychology Today:
"People who feel more connected to others have lower rates of anxiety and depression. Moreover, studies show they also have higher self-esteem, are more empathetic to others, more trusting and cooperative and, as a consequence, others are more open to trusting and cooperating with them."

Emma Seppälä Ph.D.
Undoubtedly, the complete lack of connection to others made my mental health worse. I felt anxious, depressed, lonely and bitter. Thankfully, as part of my healing journey, I realised that the only thing missing from the harmonious life I had created for myself, was other people. So as well as finding new communities to hang out in online, I also started my own community away from the distractions of social media for those who needed more support and sense of belonging.
If everyone is moving forward together, then #success takes care of itself ~ Henry Ford #businesscommunity #calmpreneur pic.twitter.com/2PN6mreaU9

— Calmpreneur Life (@calmpreneur) June 4, 2020
The benefits of online business communities
Hopefully by now you're thinking that maybe interacting with others is something to consider? If you're still not convinced, here are a few core benefits:
Recognition & celebration
There is nothing quite like having other business owners praising what you do and celebrating your successes with you. When you work alone, there is no-one to give you a 'whoop whoop' when you get a great testimonial or make a sale. Most online business groups have weekly posts where you are encouraged to share your successes. Receiving praise and congratulations on a job well done will really boost your confidence and motivate you to carry on.
Connection & support
Just knowing you are not the only one going through the ups and downs of entrepreneurship can be a great source of comfort. If you post about having one of those self-doubt days and someone reaches out, it helps you remember you aren't alone and you will come out the other side.
Gratitude & positivity
Those positive vibes can really rub off! When you have a group of enthusiastic, happy people all with the same shared desire to grow a business they love, it can really inspire you and make you feel thankful. That's not to say you won't have bad days, but you'll come out of them much sooner with a supportive community behind you.
Feedback & knowledge
Can you imagine how much collective expertise and experience is in a large group of people? All the years of business experience between them? As an example, if you have a group of 100 entrepreneurs, each being in business for an average of 3-5 years, you have between 300-500 years of business experience right at your fingertips. People LOVE to help others and show what they know. Be respectful of other group members time and don't privately message them asking to 'pick their brains' but by all means ask for group feedback about an idea you've had, or something you've created and let the feedback flow. Remember, give as much as you get and you'll soon become a valued community member.
Finding the right community for you
It's really important to find somewhere you feel is right for you. It's no good joining a pressurised corporate membership if you run a heart-centered business – you need to feel at home.
Here are some things to bear in mind:
Who is the leader and what are their core values?
Do they share the same values as you?
Who is the group aimed at?
Is the group active?
Who are the other members and do you have things in common with them?
Does the group have regular themes; such as posts on which you can share your wins or ask for feedback?
It's always great to get personal recommendations, so why not ask your business peers and friends for tips on where they like to hang out?
Just get started
To summarise, human interaction is everything. Connection is everything. So if you're feeling like I did, do one thing this week:
Make time to connect with someone who is special to you
Book your place on an offline networking event
Start looking for an online business community that looks like a good fit; you could try Facebook or LinkedIn for starters, but be aware social media groups can often feel overwhelming. For a calmer kind of community away from the distractions and fast pace of social media, come and join The Calmpreneur Community
Join a membership club or group coaching program
Reach out to a support service
There might be some resistance there; you might struggle to know what to say, and you might even want to cancel, but don't. Even if it's just a text or a message, a Facebook or a LinkedIn group, a phone call or a video call…just do it. I promise you will feel loads better afterwards.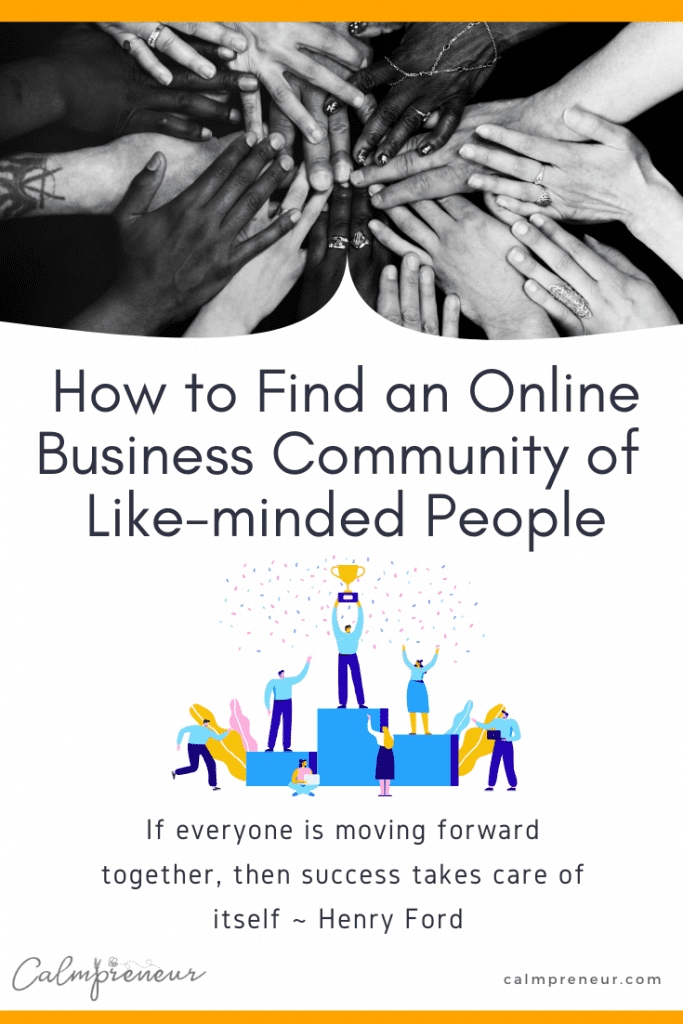 The Calmpreneur Community is a supportive community of entrepreneurs leaving the hustle behind & embracing a calmer way of living & working.
What's your story with regards to making online connections? Comment below to share your story or tips.