Self-care, or pamper boxes, are steadily on the rise, and for good reason. This non-expensive treat makes a great reward for any woman in business, or sent as a special gift to a friend.
That's why I was delighted to be able to review the new The Zen Zone at Home (TZZAH) pamper box which was sent to me free in exchange for my honest review.
So let's dive right in!
The box arrived one Saturday morning and sat un-opened on my sofa for 3 whole days! I planned to unbox it live on Facebook so that my lovely followers could see my reaction, but being the school summer holidays meant I had to be patient and wait until I could sneak away for a couple of hours so I'd be undisturbed by little people.
Opening it up was incredibly exciting and because everything was wrapped in tissue paper I felt like it was my birthday. It was a joy to unwrap.
Packaging
TZZAH Pamper Box arrived in a box probably just smaller than a shoe box. Everything inside was well protected with either bubble wrap or tissue paper and packaged with squashy eco-chips -I love squeezing these for stress relief.
It was great to see that TZZAH use bio-degradable bubble wrap, eco-chips, recyclable cartons and reusable wrap (organza bags etc.) where possible, as this is something which is really important to me.
What's inside?
On the top of the box was a lovely letter explaining the contents. This was really useful because I wasn't sure what the block was to start with (see the yellowy block which looks like cheese). Plus, it's also really handy to know the names of the gems and tumble stones, as well as the ingredients in the sweets (I'm vegetarian and avoid gelatin).
The contents of the box are as follows:
Tumblestone power pack comprising of Ice Quartz, Green Moss, Bloodstone, Jasper Yellow and Amethyst
Natural wax candle with 'driftwood' scent
Asleep solid bath oil (the cheese!) which sounds amazing
A Twinings 'sleep' tea bag
Gemenergise necklace
Strawberry twist sweets…which I'm totally hiding from my kids
Intention card from 'The Universe has your Back' deck from Gabby Bernstein
Happy mermaid soap which smells good enough to eat
Calmpreneur Verdict
Anyone who knows me knows that I am a BIG advocate for self-care and I think pamper boxes should be a regular treat. When you know you're going to reward yourself for achieving your goals, it makes you all the more enthused and excited to work on them.
The products inside really do make you feel special and just knowing that they are all yours to use at your leisure, feels very rewarding. I'm booking in for a mini spa day at home very soon! As you can see from my Facebook live unboxing, I was very excited and enthusiastic about the contents.
The letter was a great touch; as already mentioned it detailed the contents but also had links to some useful information, as well as all important contact information.
I also LOVE the ethics of the company – the packaging and products are all as eco-friendly as possible and TZZAH also support The Woodland Trust, with part of their profits going towards this important charity.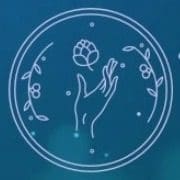 You can order your own TZZAH pamper box online at thezenzoneathome.com/pamper-boxes and remember to mention 'Calmpreneur' so they know I sent you ?
Are you a fan of self-care boxes? I am always looking to try out different ones, post a link in the comments.